Obituary for Brenton H. Wadsworth
Brenton H. "Brent" "Bink" Wadsworth, age 88, U.S. Air Force veteran 1952-1954, a resident of Yorkville, IL and Tarpon Springs, FL, died Tuesday, February 6, 2018 at his home. He was born March 11, 1929 in Buffalo, NY.

Beloved husband of Jean Wadsworth (nee Both), whom he married February 14, 1954, loving father of Stanley Wadsworth of Aurora, IL, Leslie (Paul Loague) Wadsworth of Aurora, Martha (Mark Grimm) Wadsworth of Cornelius, NC and Eric (Traci) Wadsworth of Tampa, FL, adored grandfather of Brenton and Tess Wadsworth, devoted son of the late Dr. Harold and Julia (nee Hamilton) Wadsworth, dear brother of Betty Jones of Joliet, IL and the late Stanley (Mary of Scottsdale, AZ) Wadsworth, fond brother-in-law, cousin, uncle, great-uncle and friend of many.

His family lived in Chicago for several years and then settled in Joliet, Illinois. He attended Joliet public schools, including Joliet Township High School. He embarked on his college years at DePauw University for one year and then transferred to the University Of Illinois where he graduated from the School of Landscape Architecture. Thereafter he briefly worked for the prominent mid-century golf course architectural firm, Robert Bruce Harris. He was in the U.S. Air Force from 1952 to 1954 and served as the Honorary Representative of the Air Force in the newly formed NSA. He obtained his Pilot's License through Lewis School of Aeronautics after he returned to the Midwest with the help of the GI Bill.

While in the Air Force he married Alice Jean Both, of La Grange, Illinois. In 1955, he embarked on a new endeavor in Illinois. He partnered with Edward L. Packard in forming a golf course design firm Packard and Wadsworth. This was the beginning of an entrepreneurial spirit that rang true throughout his life.

In 1958, he established the Wadsworth Golf Construction Company for the purpose of constructing golf courses. He recognized the need for an entity to specialize in this type of construction with an ability to create superior facilities.

Simultaneously, the interest in the game of golf was beginning to grow at unprecedented rates, thereby the need for more facilities to support the new golfers. To meet the exploding demand, Wadsworth opened offices in the Tampa, Florida, Hawaii and Phoenix Arizona areas, as well as maintaining the original office in the Chicago suburb of Plainfield, Illinois. His leadership with his devoted employees was unprecedented in the golf industry as they masterfully traversed the country with the unique Wadsworth touch.

The Wadsworth Golf Construction Company has built over 900 golf courses primarily in the United States. The firm also built many golf courses that were selected as the best golf courses in various rating lists. In addition, many of these were also chosen as sites for PGA tour events. Some of the hallmark projects include a remodel of Augusta National Golf Club, Pinehurst Four and Seven, The Greenbriar, Torrey Pines; built Castle Pines, in the Denver area, Shadow Creek in Las Vegas, Tournament Players Courses in Tucson, Florida, Detroit, Valhalla in Louisville, and many Desert Courses in Arizona; as well as many outstanding courses in Hawaii, Alaska and almost every other state in the country. They also built local Illinois public golf courses, including Prairie Bluff in Romeoville, Heritage Bluffs in Channahon, Wedgewood in Joliet, and Orchard Valley in Aurora. Brent built, owned and operated Fox Bend in Oswego, Illinois.

His passion for golf was far beyond golf course construction. Brent served on several golf course industry advisory boards and helped found, develop and serve as Chairman of Golf Hosts, a resort company which owned and operated the famous Innisbrook Resort in Tarpon Springs Florida and Tamarron in Durango, Colorado prior to their sale. The Innisbrook Copperhead course continues to be a favorite PGA course, one of the legendary Wadsworth built golf courses.

He modestly achieved extensive recognition of his contributions to the game of golf. In 1991, he was inducted into the Illinois PGA Golf Hall of Fame. In 1993, The American Society of Golf Course Architects honored him with their most prestigious Donald Ross award, presented annually to individuals who have made significant and lasting contributions to the profession of golf course architecture. He also received the Golf Course Builders Association of America Humanitarian Don A. Rossi Award in 2000. In 2017, he was bestowed with the Col. John Morley Distinguished Service Award by the Golf Course Superintendent Association of America.

Brent believed in providing less fortunate people an opportunity to enjoy the game of golf. His Company contributions are made to charities devoted to these endeavors. In particular, the disadvantaged, disabled, families and youth are targeted recipients. To further those goals he established the Wadsworth Golf Charities Foundation in 1997 along with his wife and children. The Foundation, through the years, sought to make the character building attributes of golf accessible to more people by making gifts and grants to many organizations throughout the entire country that supported the Foundation's mission of self improvement, which in turn could benefit society to become a more honorable, gentler and friendlier place.

Not only was he recognized in the golf arena, but also in the communities of Aurora, IL where he and his wife raised their children and in Joliet, IL where he grew up and never forgot his roots. Aurora University inducted Brent with a Doctorate of Humanities in 2008 and he received a Doctorate of Humanities in 2013 from Lewis University. He was so overwhelmed and humbled by these great honors.

Faith, family and friends were always an important cornerstone for Brent. He and his wife were members of Wesley United Methodist (Aurora, IL), First United Methodist (Tarpon Springs, FL), Trinity United Methodist (Yorkville, IL) and attended Leland United Methodist (Leland, MI). The enrichment from these church affiliations was paramount in Brent's daily life and his marriage of 63 years.

Brent's marriage to Jean was a highly blessed union with four children and two grandchildren, Brenton and Tess. He was a generous provider with amazing opportunities for work, education, travel, recreation and fellowship which wove throughout his beloved country and international interest.

He had a steadfast friendship and working relationship with his brother, Stanley Wadsworth, as the two partnered in golf resort development and ownership. He was so proud of his sister Betty's endless Christian and volunteering endeavor's.

He loved life and had a unique zeal when interfacing with people whether it was childhood friends, neighbors, employees, church members, customers or locals. He had many friendships that grew from the golf arena and was so well respected by golf course architects, famous golfers, owners and superintendents. A unique intuition and humbleness afforded him this rich depth. He was devoted to his fraternity and friends from college throughout his life.

His passion for design was not only evident in his golf course building. He built and renovated several homes. Each home was a masterpiece built with the finest degree of detail.

He also managed to find time for recreation, hobbies and applauded the arts. Recreation was always close to nature as he was amazed at the incredible beauty enveloped across the country. Studying the weather was a passion along the way. He golfed his way across the United States along with international stints. The game of golf not only was enriching as a builder, but his time actually golfing with friends, family, customers was undeniably of tremendous joy. A proud hole in one was a crowning moment at the Innisbrook Copperhead #4, which was a course he built. He was a sailor and a boater. He actually built a wooden motor boat in his early years. Boating adventures included the Illinois River, Lake Michigan, Gulf of Mexico and the Caribbean. He cross country skied and downhill skied throughout North America. Even giving snowboarding a whirl in his late 60's. There were bike rides and ice skating joys he shared with his wife and family. He built a refined ice rink for his family which ultimately transcended into his grandson, Brenton's hockey endeavors. It was a thrill for him to cheer Brenton and he enthusiastically supported Tess in her swimming and scholastics. As he traveled the country he was always in pursuit of his next barbecue meal.

His train fascination developed at a young age as he rode the street cars around Chicago. Train trips with family included departures from Chicago to Santa Fe, NM and Seattle, WA. Tampa to Miami as well. His elaborate train scenes and collections are yet another testament to his attention to precise design detail.

Brenton's amazing life was one of genuine hard work, resourcefulness, great accomplishment, unprecedented generosity, eternal modesty and unwavering kindness. All apparent in his unforgettable smile. It is hard to believe that he started with nothing and gave as each success afforded him to do so. As a special friend acutely acknowledged at his 60th Birthday "You would never hear a word of this from Brent as Brent's life was heaven sent."

Visitation Saturday, February 10, 2018, 3:00-5:00 P.M. at Overman-Jones Funeral Home, 15219 S. Joliet Road (Corner of Rts. 30 & 59), Plainfield.

Additional Visitation Sunday, February 11, 2:00-3:00 PM at Trinity United Methodist Church, 2505 Boomer Lane, Yorkville, IL 60560, (630) 553-7645.

Funeral Services will follow Sunday, 3:00 PM at the church with Rev. Michael Stoner officiating.

Private Interment: Oak Grove Cemetery, Bristol, IL.

In lieu of flowers, donations in Brent's memory can be made to the: Wadsworth Golf Charities Foundation.

The Foundation is dedicated to improving society through the embodiment of the moral, ethical and cultural codes of the game of golf.

Checks may be made to Wadsworth Golf Charities Foundation, 13941 Van Dyke Road, Plainfield, IL 60544, (815) 436-8400 or please visit www.wadsworthgolffoundation.org/donation.php

or Trinity United Methodist Church, 2505 Boomer Lane, Yorkville, IL 60560, (630) 553-7645, www.trinityum.net

For more information, please call (815) 436 – 9221.
To send flowers or a remembrance gift to the family of Brenton H. Wadsworth, please visit our Tribute Store.
Previous Events
Visitation
Overman-Jones Funeral Home
15219 Joliet Rd.
Plainfield, IL 60544
Visitation
Trinity United Methodist Church
2505 Boomer Lane
Yorkville, IL 60560
Service
Trinity United Methodist Church
2505 Boomer Lane
Yorkville, IL 60560
Memorial Contribution
Wadsworth Golf Charities Foundation
13941 Van Dyke Road
Plainfield, IL 60544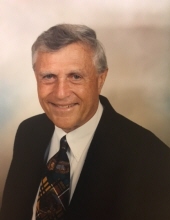 Thank you for sharing your
memory of Brenton
Provide comfort by sending fresh
flowers from our local florist.
No thanks, please don't show me this again.