Obituary for Pamela Suzanne Pawlowski
Pamela Suzanne Pawlowski, nee Genge, age 62 of Plainfield, formerly of Hanover Park, and Glendale Heights, IL, passed away, Monday, November 4, 2019 surrounded by her family. She was born October 26, 1957 in Evergreen Park, IL to her loving late mother Janet Genge.

Cherished wife of Randal J. Pawlowski, wedded on November 9, 1991. Loving mom to Lillian R. Pawlowski and Rebecca A. Pawlowski. Dearest sister to six siblings. Dear aunt of many nieces, nephews and friend to many.

Pam was a 1975 graduate of Glenbard North High School. Long-time employee of Northern Insurance Agency. Pam loved gardening and was known for her jarred peppers, yellow tomatoes and other harvests. She was an avid cook. She loved being with and around people and will always be remembered for her smile, her laugh, her outgoing nature and her genuine friendliness to everyone she met.

In lieu of flowers, memorials maybe made to the family for the education funds of Pam and Randy's daughters.

A tribute to Pam in the words of Randy........When thinking of Pam – I think of people. How she loved them, how she loved talking with everyone, how she loved doing anything for anyone, and most of all how she loved to laugh with everyone. She said more than a 100 times that she was a people person. And she lived her life that way.
She did have other passions, but somehow everything always came back to being with people.
She loved our game nights and playing games by the pool in the summertime - sipping a beer, and being outside. We would sit playing dice games, Rummikub, or cards, but she would always be looking over the fence to see who was there and as soon as she saw someone, she was up and calling to them. Needed to say 'Howdy Neighbor' and go on from there. And even though we had a nice deck by the pool, she'd rather sit out front in the garage so that she could see everyone as they came and went. Always with a 'Hi there!'
In the winter, she looked forward to fires in the fireplace, old black and white movies, and her homemade popcorn. Boys Town, Song of Bernadette, Bells of St. Mary, Here Comes Mr. Jordon – just to name a few. And oh – any Shirley Temple movie. We could fill an entire day just listening to the fire and watching these films and being with each other.
In the summer, she loved the gardens. Not for the food for us, but because of what she could give away. She would always look to see what was picked every day, then divide it up – one for here, two for the bag. She was upset with the low tomato crop this year because she knew some kids who just loved the yellow tomatoes and we didn't really have as much to give out as usual. She just loved giving them out. (I think everyone was tired of the cucumbers this year..) And the jarred jalapeno's. She actually kept a couple jars in her desk drawer at work to have on hand so she could always be ready to hand some out. That people asked for them, made her so happy. She just loved the smile on their face when she handed them out.
Aside from all that though – Her pride and joy, and most important part of her life were her two girls. On their graduation days from ISU – she just beamed, calling out their names as they got their diplomas. Boy was she proud.
Both girls were colicky, and as hard as that was, she never missed a beat. Walking them, hugging them, cradling them. Then helping them through any and all tough times as they grew up. She was our rock. At St Jude, she was a room mom, go-to person for the staff, and even acted as a substitute teacher one day. Whatever was needed, she was happy to do it. As usual, whatever the people needed. Graduation from ISU was like reaching the end of our first journey. So hard, but so satisfying that the girls did it.
She loved other things too – cooking (she was a GREAT COOK!), picture puzzles, decorating the house, the holidays…….

Pam was never one to give up or quit. When we first were married, and still living in an apartment, we invited her mother and one of mom's friends over for dinner. Pam made a corned beef, first time. Gotta say it was rough. But she didn't stop trying, she kept trying, and now no-one can make a better one.
After we came out this way, she was looking for a position. When Eric offered the spot at the insurance company, she came home in a panic. She didn't think she could handle learning the computer systems, office work, etc. But with a little reassurance from us and a lot of patience from Eric, she not only learned but came to excel at all her responsibilities. She just would never give up.
Then came the time for her to get her insurance license. She had to pass all the tests. Again, she was so upset and worried. She said she was never good at taking tests and didn't want to let Eric down. So, we all got together with her, helped her study at the table doing the study questions and answers. Then the day came and
SHE PASSED!!
Aside from her girls, I had never seen her so happy, proud of herself. We celebrated at home. At work, Eric had a cake (and a case of her favorite beer), and she absolutely beamed again. Finally for herself for a change. (I am so proud of you Pam). Passing the test, getting her license was a great moment for her.
What I'll miss most is her laughter, her smile. Every morning when we had our 'alone' time, she would always have a smile. The most wonderful time of my day - just her being the first thing I saw every morning. And I know she felt the same way. It was our time, our way to start the day.
And her laughter. If there was a huge crowd, you could always find her. She would be in the center, and all would be laughing. This brings me back to her greatest passion - people.
If ever there was a people person - It was Pam. When new neighbors moved into the neighborhood, Pam always was the first to reach out her hand and say 'Howdy Neighbor'. She wanted to make sure everyone was welcome, felt comfortable, and new she would be there for anything they would need. Everyone knew after the first time meeting her that they had a new friend - a very good new friend.
She would act as a kind of mother hen to some of the younger folks. Watching over them, talking to them, and of course offering her advice. They knew she meant well, and was genuine in giving them her thoughts, so they always listened and seemed happy that someone actually thought of them as neighbors.
We were recently in Galena. The first day we walked the downtown on one side of the street. Pam stopped with every person we passed and said 'Hi, I'm Pam, hope you're having a great day, we are'. From there the conversation just started. By the second day, as we walked the other side of the street, people would call out our names to say Hi. Seems like half the town already knew her.
This was the norm for her. Seems that no matter where we were, someone always knew Pam. We were in Disney World on family vacation a few years back. The girls made the comment to Pam that they bet this would be one place where she wouldn't bump into anyone she knew. And as soon as they had finished saying that, her name was called out. Sure enough a neighbor from the old neighborhood saw her and called her out. They hugged each other, started talking, and the girls just looked on in amazement. But that was Pam.

I could keep going on. There are so many stories to tell, haven't even touched on all the stories and people she touched thru work. Her job put her in position to talk with people every day - what she enjoyed the most. I've heard stories on how people would walk by the office, knock on the window, just get give and get a wave. She touched so many people. And they all touched her. I wish I could thank each one of them for the happiness they gave her just by giving her a smile back when she smiled at them.
I know God is perfect. I know this because he gave me the perfect person to be in my life. I see her every day. Every time I see someone saying something nice to someone, every time I see two people smiling at one another, every time I see and act of kindness, I see Pam standing there nodding her approval saying "See - it's not hard to be nice to people, and doesn't it just feel so good."
She taught me what it is to be a good person. She lived her life that way. I wish we all could.

I love you Pam



Visitation will be Friday, November 15th 3:00-9:00 PM at Overman-Jones Funeral Home & Cremation Services, 15219 S. Joliet, IL 60544. Prayers will begin Saturday,November 16th 9:45 AM from the funeral home and will process to St. Mary Immaculate Church, 15629 S. Rt. 59, Plainfield, IL 60544 for a 10:30 AM Mass of Christian Burial. Interment is private.

For more information, please call 815-436-9221 or visit www.overman-jones.com
To send flowers or a remembrance gift to the family of Pamela Suzanne Pawlowski, please visit our Tribute Store.
Previous Events
Visitation
Overman-Jones Funeral Home
15219 Joliet Rd.
Plainfield, IL 60544
Mass of Christian Burial
St. Mary Immaculate Parish
15629 S. Route 59
Plainfield, IL 60544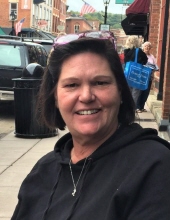 Thank you for sharing your
memory of Pamela
Provide comfort by sending fresh
flowers from our local florist.
No thanks, please don't show me this again.